Webmodels job for sexy chat
Web models & porn modelling agencies wanted for a new sexy chat generation.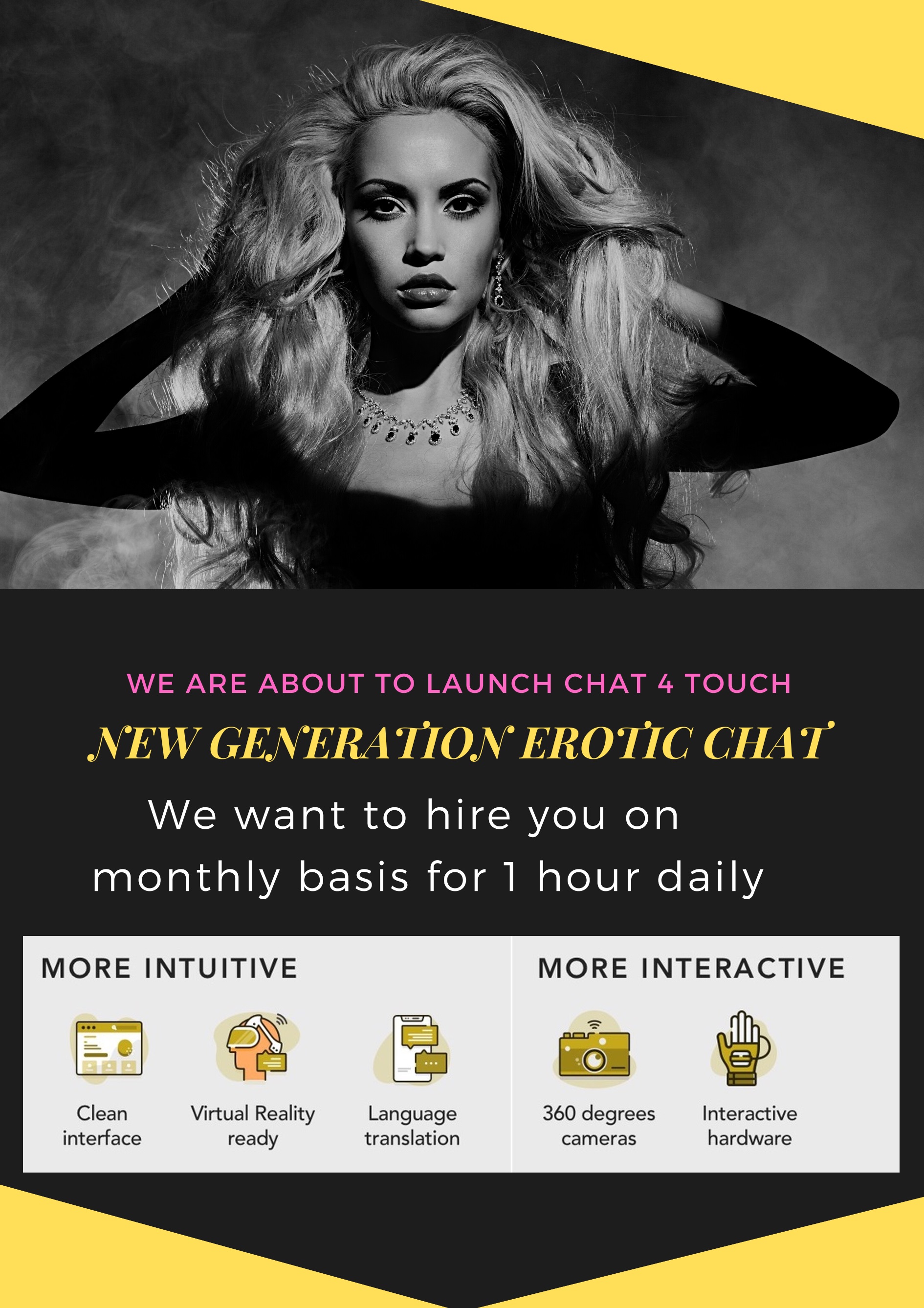 We are going to launch a new online erotic platform for a selected number of exclusive models for an innovative chat offering different types of shows.
What we offer to the porn modelling agencies:
We would like to hire some of your dancers or models to perform on the platform for some time. We need models who are interested to work on regular schedule,

Payment for each Model will be paid monthly by fixed amount and she will have the possibility to earn additional money for selling her selfies or videos, or collecting tips,

Within the contract we specify conditions such as payments, models, lenght of service, working hours etc.
What we expect from the adult agencies:
Models can work from home if the streaming and the backround are of an high quality,

We expect 2-20 models. Each model should work at least 2 hours per day and perform 30/60min show. The minimum working hour monthly is of 80 hours.
If after this time the models still wish to continue to perform you will become their studio manager and you will get percentages from their earnings. We expect to launch the platform once we all the models selected, tested and trained.
New Platform Chat4 Touch for selling sexy pics and videos
A growing number of women have empowered themselves by signing up to share and sell sexy images and video content. Earning extra cash by working online from the comfort of your home seems to be the way to go, if you want to stay solvent in 2021.
Chat4touch is not some live chat platform but its a mix of only fans, live chat and game site in one. You make money and this is guaranteed as CH4T is going to hire famous faces to pay them just for being online. Chat4Touch platform is going to launch in December 2021. Contact ch4t directly by email > info@chat4touch.com
Cash In With Your Selfies
In case you're not already aware, Chat4Touch allows profile creators to post adult content, so that your subscribers can pay to view, and tip for extras. By growing your fanbase, it's possible to generate substantial income. While not everyone will automatically achieve the same level of financial success, if you want to make money online there's no disputing that selling your own adult content can generate steady income.
If you're looking for creative and viable new ways to boost your finances in 2021, working from home as an adult content creator, or live webcam performer, can bring in serious cash. Chat4 touch can boost your exposure to a wider clientele, until the lockdown restrictions are lifted and it's business as usual. Use the site to promote your services by sharing and selling images and videos, and continue making money during the coronavirus pandemic.
Cash for influencers, independent webcam models
Are you famous influencer? Erotic web model, producer or actor. Do you want to create erotic show for your models or yourself. Do you want to create content and be paid for that?
Contact us by email and tell us how you can work with us.
info@chat4touch.com
Webmodels job for sexy chat | Web cam modelling of new generation